Walk a Mile In My Shoes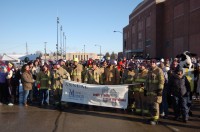 Details of WalkPlease print, sign and bring to the walk: Release of Liability Waiver

Date - February 9,2019For those who have not registered online, registration is between 8a.m. - 9a.m.This is also the time to... turn in any additional funds pick up t-shirts if you don't already have them enjoy donuts, hot cocoa or coffee enjoy being with your friendsThere will be a short opening ceremony at 9a.m.Walk will begin after opening ceremony and will end at the Muncie Mission. Just is case....Inclement weather date is February 16 Early-Bird benefits: Turn in your collected funds and team member names by 4:30 p.m., 2/7/19 (sorry - no exceptions)
Why?
- All team member names are entered into a drawing for 1 of 2 $50 gift cards.
- Teams raising $1,000 or more receive:
- Recognition of accomplishment at the event
- Certificate of accomplishment
Find out more about Muncie Mission: www.munciemission.orgFacebook : @Muncie Mission
Walk A Mile in my Shoes
When: 02/09/2019 at 8:00 AM
Where: Muncie Central High School
801 N Walnut St
Muncie, IN
United States
47305

Contact: Jeannine Euckert
765-288-9122 ext 105
jeuckert@munciemission.or
g
Visit http://www.walkformunciemission.com for more info and to register online!