Fall Celebration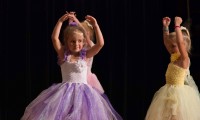 Cornerstone Center for the Arts will conclude its current class session with its Fall Celebration on Sunday, December 9. This recital will include dance and music performances as well as fitness demonstrations, visits with Santa, and a student art gallery.
Act 1 will begin at 2 p.m. in the E.B. Ball Auditorium, followed by Act 2 beginning at 3:15 p.m. During intermission a Zumba demonstration will take place in the Colonnade Room. Santa will be available for visits from 2:30 to 4:30 p.m. and light refreshments will be available in the Colonnade Room on the first floor of Cornerstone. The event will continue until 4:30 p.m.
Celebration will highlight the work of this session's youth and adult dance, fitness, art, and private lesson music students. Information about the upcoming spring class session will be available at the event. Celebration is free and open to the public. For more information visit cornerstonearts.org or call the Education Department at 765-281-9503.