Cheers Cocktails and Canvas!
When
Tuesday, December 11, 2018
6:30pm
Where
Cheers Tavern
3823 N Broadway Ave Muncie, IN 47303
What
Art painting, acrylic painting, adult oriented, painting class, painting workshops, beer, thirty-one, date night, party, girls night out, drinks, christmas
Cost
$25
Ages
21+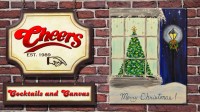 Cheers Cocktails and Canvas!
Grab your friends and paint with a pint, or
have cocktails with your canvas!
Second Tuesday of every month!

It's the annual Christmas Party, sponsored by Kathy Planton, Thirty-One Gifts! There will be giveaways, food, fun, and come prepared to shop the Thirty-One booth for great Christmas gift ideas!

Can't wait to shop? Visit online for great gift ideas: https://l.facebook.com/l.php?u=https%3A%2F%2Fwww.mythirtyone.com%2Fus%2Fen%2Fplanton%3Ffbclid%3DIwAR2bhewizcWLr-NTgdPBxytNiXKlETh_2scPo9fP2_HQVf4tx0IwGzHBvQU&h=AT2dfTYKpLZcksYDt4s4vI_40xBUEeIacCs0--mXjOk3mqGgM4ljUIZh4_SZ_waDpVGZa2D43D6cVfordMG0NheaBhXJ5JhhECCCUaeuqGI6kxEX7HA3oQ">https://www.mythirtyone.com/us/en/planton

Painting Info:

"Looking in on Christmas" by Michelle Walker

16x20
2 - 3 hours
$25

Registration deadline: Sun, 12/9/18 6:30pm
PAID REGISTRATION REQUIRED.
Minimum 10 participants required to hold the party.
Maximum capacity: 30

Price includes everything you need to create this masterpiece:

Apron!
Paint!
Canvas!
Brushes!
Tools, & Supplies!
Step-by-step instruction!


Acrylic paint will NOT come out of clothing!
Plan to arrive 15 minutes early to get a good seat, earlier to get order some great Cheers food and drinks!

When registered, always check your email in case your class is canceled.
If using a gift certificate, please call, text, or FB message the LTBA Studio to register. (765)749-8717
By registering, you are agreeing to our terms, conditions, and policies.
www.lettherebeart.gallery%2Ftermsconditionspolicies.html%3Ffbclid%3DIwAR21jRkVbse2SDuuMtSSWR23dUKot2eo8vMSnirb5IBitqeec50P6JXLrpo&h=AT0Mo8GKOjZSmZYtyoeBnAP4-WftUmFvObxhId7p7gkDWl5JuOw5DClDygJ2SanB-37qsmijRl1XUiHS_jsh94ii3YDJCDSEWojpZzToifLKTql74w8e-w" target="_blank" data-lynx-mode="hover">https://www.lettherebeart.gallery/termsconditionspolicies.html

See you at the party!