Free Dance Technology Workshop for Advanced Adults with PlySpace Resident Linda Ryan
When
Saturday, November 17, 2018
1:00pm to 3:00pm
Where
Cornerstone Center for the Arts
Third Floor, Majestic Room
520 E Main, Muncie, IN 47305
What
Art - dance, downtown, dwntwn, experimental film, muncie arts and culture council, plyspace, technology, theater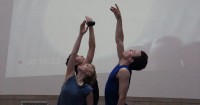 Dance Technology for (Advanced) Adults
This 2-hour workshop includes a dance class, a short lecture, and a Q & A session all centered around the role of digital technology in art and performance. Come and learn about the performances Linda creates and make some for yourself! Dance experience preferred. Suitable for ages 16 and up. Wear simple dance attire with socks or bare feet.
Register Here for the Advanced Workshop: https://cornerstonearts.myshopify.com/collections/adult-workshops-1/products/dance-technology-workshop-for-advanced-adults
Linda holds a BA in Dance from the George Washington University's Corcoran School of the Arts & Design, where she received the Luther Rice Research Fellowship as well as the Enosinian Scholars Grant. She is an award-winning dance researcher, conducting movement research and experiential choreography both internationally and at home in the US. Her previous performances include work by The Maida Withers Dance Construction Company, Vladimir Conde Reche, Annika B. Lewis, I-Fen Tung, and Anton Ovchinnikov. Linda worked in Washington, DC until 2018 and is now based in upstate New York.
Learn more at www.plyspace.org/events