PlySpace Open House + Summer Showcase
When
Saturday, September 8, 2018
3:30pm to 7:00pm
Where
PlySpace
608 E Main St.
What
Art - art education, downtown, dwntwn, exhibitions, muncie and delaware chamber of commerce, muncie arts and culture council, open house, plyspace, ribbon cutting, tour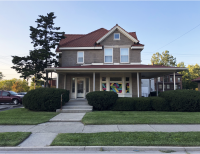 Muncie Arts and Culture Council invites community members to an afternoon of celebration and tours during the PlySpace Open House + Summer Showcase on Saturday, September 8th. Join Muncie's creative community for a sneak peek inside PlySpace, the home, office, and exhibition space for MACC's artist-in-residence program, and learn more about the Summer 2018 resident artists and the collaborative projects completed during the first full season of programming!
As an artist-in-residence program, PlySpace provides dedicated space and time for participating residents to investigate and pursue their own practices. Additionally, it serves as a platform for experimentation and provocation by catalyzing conversation and collaboration with various Muncie communities. The 2018 Summer Term welcomed Dave Rowe from Las Vegas, Nevada; Kacie Lyn Martinez from Brooklyn, New York; and Anthony Bowers from Philadelphia, Pennsylvania.


Installed in the PlySpace Gallery at the north end of the facility, the Summer Showcase will exhibit documents of both the personal and collaborative work conducted by all three residents during their time in Muncie. Resident Fellow and sculptor Dave Rowe worked in the studios at Madjax producing wood sculpture work in preparation for a fall exhibition at the Dairy Arts Center in Boulder, Colorado. In addition to working with the School of Art at Ball State University to offer unique casting experiences for students, he also held aluminum casting workshops for a variety of nonprofit organizations throughout Muncie. Kacie Lyn Martinez is a participatory fiber artist who joined the program as a Resident Artist and facilitated weaving workshops with groups through the YWCA Muncie and Muncie OUTreach. Her temporary public art installation, the hopes we wear on our backs, invited the community to weave their Muncie hopes into the screens along the west side of Canan Commons and will remain on view into the fall. Pool Project saw Anthony Bowers hosted several interactive art-making sessions at Tuhey Pool and Catalina Swim Club and explored the distinct communities and connectivity created by the summer pool setting. Pool-goers were given the opportunity to create cyanotype prints and participate in underwater listening activities.
MACC members at the Ambassador and Arts Hero levels are invited to attend a VIP reception for the PlySpace Open House + Summer Showcase beginning at 3:30 pm on Saturday, September 8th. The event will open to the public at 4:30 pm. A short program will begin at 5:00 pm in the PlySpace Gallery and includes a ribbon cutting ceremony led by the Muncie-Delaware County Chamber of Commerce. Guests are invited to tour the recently renovated facility at their leisure. Guided tours will be led by PlySpace residency coordinator Erin Williams at 4:00 pm and 5:30 pm. Light refreshments will be served, and curious individuals of all ages are encouraged to attend.
Additional event information is available at munciearts.org/openhouse or by phone at 765-215-1961. For more information on MACC membership and to upgrade or renew your memberships, please visit members.munciearts.org.

PlySpace and the Muncie Arts and Culture Council office are located at 608 E Main Street in downtown Muncie, IN. Parking is located in the lot immediate adjacent to the building at Main and Monroe Streets and in the lot South of Madjax on Jackson Street. Please enter through the PlySpace Gallery using the parking lot entrance.