Street Vibe: Art Exhibition by Leon Crosby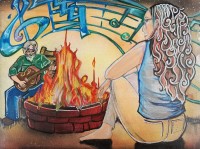 Join Cornerstone Center for Arts on Thursday, August 2 for the opening reception of Street Vibe by local artist Leon Crosby. The reception will take place in the newly renovated Judith Barnes Memorial Gallery on the second floor of Cornerstone Center for the Arts from 5:00 to 7:00 pm in conjunction with August's First Thursday events.
Taking inspiration from mural art around the world, this collection aims to hit the multiple different styles that can encompass street art from surrealism, graffiti, fantasy art, watercolor and classical styles. These styles and more will be evident in Crosby's unique show Street Vibe.
Leon Crosby is a local artist, teacher, and street artist. Street Vibe will be on display and open to the public in the Judith Barnes Memorial Gallery throughout the month of August. For more information about the exhibition call Cornerstone's Department of Education & Communication at 765-281- 9503, ext. 23 or visit cornerstonearts.org.