PlySpace Open Studio: Artist-Fellow Dave Rowe
When
Friday, July 13, 2018
5:00pm to 8:00pm
Where
Madjax
Second Floor
514 E Jackson St, Muncie, IN 47305
What
Art - art education, assemblage, ball state university, ceramics, ceramics and glass, computer art, crafts, design, drawing, dwntwn, exhibitions, installation, madjax, meetings, metalworking, muncie arts and culture council, non-profit organizations, painting, plyspace, projects, sculpture, seminars, speakers, woodworking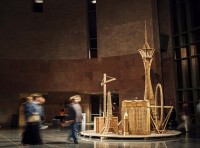 PlySpace Resident Fellow, artist Dave Rowe, will hold an open studio at Madjax on Friday, July 13th, from 5:00 to 8:00 PM. PlySpace studios are located on the second floor of the Madjax building.
Visitors are invited to learn more about PlySpace, check out the PlySpace studios, and explore the work Dave has created while in residence this summer. At 6:00 PM, the artist will discuss his work and his residency experience in an informal artist talk. Light refreshments will be served.
Dave Rowe is a sculptor, educator, and fabricator. He is currently an Assistant Professor in Sculptural Practices at the University of Nevada Las Vegas and holds a BFA from the University of Illinois at Urbana- Champaign and an MFA from Indiana University Bloomington.
Learn more about Dave and his fellowship at PlySpace!
PlySpace is a program of Muncie Arts and Culture Council in partnership with the City of Muncie, Ball State University School of Art, and Sustainable Muncie Corporation. PlySpace is generously supported by the National Endowment for the Arts.