MACC Hosted First Thursday Reception for SONDER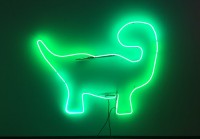 Muncie Arts and Culture Council is pleased to celebrate First Thursday, March 1, 2018 with an opening and closing reception for Sonder, an art exhibition from 5:00 – 9:00 PM at PlySpace, the soon-to-be new home for MACC located at 608 East Main Street in downtown Muncie. Light refreshments will be served and the public is invited to attend.
Produced in partnership with a Ball State University School of Art immersive learning course, the exhibition of student work gets its name from John Koenig, the creator of the "Dictionary of Obscure Sorrows." "Sonder" is a term coined by Keonig to describe the realization that each random passerby lives a life as vivid and complex as your own and that an epic story is continually unfolding invisibly around you. In this case, the exhibition Sonder explores and celebrates the inner worlds, passions, and inquiries of Ball State University students from varying formal disciplines and personal backgrounds.
In addition to producing the individual works of art, the students are also responsible for designing, curating, and installing the exhibition. Participating artists include: Alexis Brooks, Danielle Campbell, Mallory Creekmur, Veronica Debone, Michael Dorsey, Mikey Higgins, Megan Lange, James Lupkin, Rowan Mayo, Summer Moore, and Megan Sutton. The selected artworks represent a variety of 2D and 3D media including glass, ink and charcoal drawings, video, and ceramics. The artists will be present throughout the evening and available to answer questions and share insights about the program and individual works with guests.
Muncie Arts and Culture Council welcomes the public to this one-night-only First Thursday event in downtown Muncie. Parking is available in the lot immediately adjacent to the building. Entry to the exhibition is only permitted through the west-facing gallery door. For more information, please email info@munciearts.org