'Inspired by Orchids"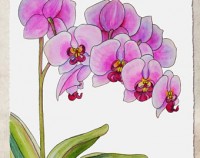 'Inspired by Orchids'.
A wonderful art exhibit 'Inspired by Orchids'. Artists include local Ball State University School of Art students who utilized the greenhouse during designated class times, as well as various community artists who enjoyed the greenhouse throughout the year and during our recent Community Artists Day, 'en plein air'.
Held at the Dr. Joe and Alice Rinard Orchid Greenhouse, located in Christy Woods on the Ball State University campus. The new facility houses the largest collegiate collection of orchids in the USA, with 2000 orchids. There is always something in bloom throughout the year.
Hours M-F 10:00 a.m.-4:30 p.m. and Saturdays 10:00 a.m.-3:00 p.m.
Parking is available near Christy Woods. No permit required on Saturdays. For questions, contact Cheryl LeBlanc at cleblanc@bsu.edu or call 765-285-8839.