Free Estate Planning Seminar. Get Your Ducks in a Row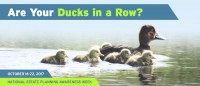 Raising awareness about estate planning is in line with the WIPB public service and educational mission. With new federal action on estate taxes & other issues that impact estate planning, now is the perfect time to complete or update your plans. To assist you, WIPB is presenting a free estate planning seminar.
Tuesday, October 24, 2017
5:30-6:30pm
Maring-Hunt Public Library
2005 S. High St. Muncie, IN 47302
Seminar is free and open to the public.
More about WIPB
WIPB-TV is a PBS affiliate public television station licensed to Ball State University. It was founded on October 31, 1971.
We are located in the David Letterman Communication and Media and E.F. Ball Communication buildings on Ball State University campus. WIPB serves 27 counties in Indiana and 3 counties in Ohio. For more information visit www.wipb.org