Muncie TimeBank, Inc. Anniversary Party
When
Tuesday, August 29, 2017
5:30pm to 7:30pm
Where
Muncie Delaware Senior Center
2517 West 8th Street
What
General Events - community development, muncie action plan, muncie makers market, muncie public library, neighborhood, non-profit organizations, potluck, sharing economy, speakers, time banking, whitely community council, ywca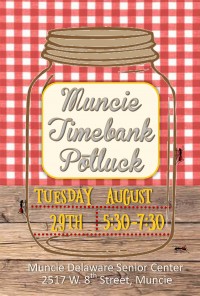 The Muncie TimeBank is turning 1 year old!
Join us for an indoor picnic-themed celebration to reflect on how we started the TimeBank, how we've grown, and where we want to go next. Enjoy a potluck meal provided by Muncie TimeBank members and learn about our growing, helping community.
All ages are welcome to this free event. Any contributions of a dish to share are appreciated, but it is certainly not required. Please come and check us out.
For more information call Jill Jereb (765) 288-3048 and visit us on the web at muncietimebank.org and www.facebook.com/Muncie TimeBank