GindhART
When
Thursday, August 3, 2017
5:00pm to 9:00pm
Where
Madjax Muncie
First floor just outside Tribune Showprint
515 E Main Street
What
Art - exhibitions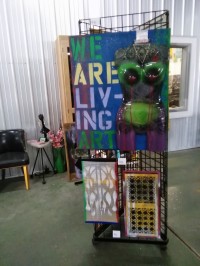 First Thursday
August 3 2017
5-9pm
Madjax Muncie

GindhART @Madjax
Longtime local artist and designer Debra Gindhart Dragoo is in her Madjax Studio with new paintings, small painted furniture, and new recycle chic jewelry.
Her art processes include but are not limited to Aerosols, Acrylics and Assemblage with commissions welcomed.
Meet the artist and enjoy light refreshments during First Thursday gallery walk.