U.S. Army Jazz Ambassadors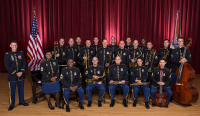 Many things set the Music for All Summer Symposium apart and one of those is the nightly concert series. Each evening features artists and groups presenting a variety of musical performance genres.
The Jazz Ambassadors—America's Big Band is the official touring big band of the United States Army. This 19-member ensemble, formed in 1969, has received great acclaim both at home and abroad performing America's original art form: jazz.
Concerts by the Jazz Ambassadors are designed to entertain all types of audiences. Custom compositions and arrangements highlight the group's creative talent and gifted soloists. Their diverse repertoire includes big band, swing, bebop, Latin, contemporary jazz, standards, popular tunes, Dixieland, vocals, and patriotic selections.
TICKETS: Free admission, balcony seating only. You can pick up your complimentary ticket prior to the performance at the Emens Auditorium ticket office.