Greenhouse Tours for Families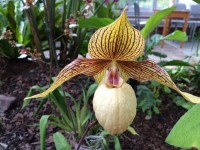 Explore the greenhouse with your friends and family. Explore the greenhouse using magnifying glasses, look under a microscope, and have fun learning about plants. For all ages. No reservations needed.
The Dr. Joe and Alice Rinard Orchid Greenhouse houses the largest collegiate collection of orchids in the Unites States, with 2000 orchids. There is ALWAYS something in bloom throughout the year.
Parking is available near Christy Woods on the Ball State University campus. No permit required (free) on Saturdays. For questions, contact Cheryl LeBlanc at cleblanc@bsu.edu or call 765-285-8839.