Rinard Orchid Greenhouse Plant Sale/Fundraising Event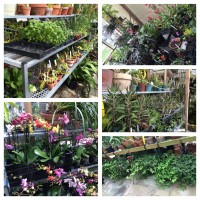 Rinard Orchid Greenhouse Plant Sale*/Fundraising Event 2017
Spring Cleaning! And (annual) clearing out of extra and duplicate plants from greenhouses to make room for additional research. All plants will have a suggested donation amount and all funds generated will be used for greenhouse supplies. Plants include succulents, hanging ferns, orchids, outdoor landscaping perennials, herbs and many others. Great Graduation/Mother's Day gifts!
When: Saturday, April 29th, 2017
Time: 9:00 a.m.- Noon
Orchid Repotting Demonstrations: 10:00 and 11:00
Location: Christy Woods Classroom, South Service Building, located in Christy Woods. Parking is available off University Ave., to the south of Christy Woods.
Contact: Cheryl LeBlanc (285-8839 or cleblanc@bsu.edu) for information, to help volunteer, or donate items in advance of event.
Sponsored by the Friends of the Rinard Orchid Greenhouse
P.S. Have extra plants you no longer need? Donate them to us by April 24th! We will accept used pots (3" - 15" size), plant divisions, and perennials.