Picnic & Pops: Salute to Broadway!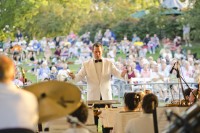 An outdoor concert for the whole family to enjoy! Come celebrate a Muncie "town and gown" musical experience with the MSO and the "Pride of Mid-America" Marching Band. It's one last summer celebration before winding down for the school year.
Event Support... Ball Foundation, Minnetrista, First Merchants.