IPFW Auer Performance Hall Presents: John Fishell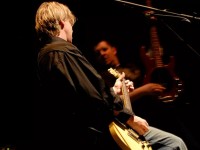 John Fishell is a renowned producer who has worked with jazz greats including Grammy-winner Joe Lovano, Billy Hurt (drummer for Otis Redding, Herbie Hancock), and David Liebman (sax for Miles Davis).
Now he's focusing his efforts on his first love, rock music! In October John will release his debut LP 'Unfinished Business' and curious fans will have an opportunity to get a first listen at his free showcase at Auer Concert Hall on the IPFW campus (John is Director of Music Tech there).
You can stream John Fishell's single "Stand By" here: http://hyperurl.co/StandBy